Turkon American Line Container Tracking
|
As the pioneer container service provider in Turkey, TURKON has always given most reliable service through its regular schedules and dedication to fulfill the requirements of logistics of its clients. Playing a leading role in giving versatile container transportation and logistical support with four nations such as U.S.A., North Europe, Mediterranean, this giant in ocean transportation from Turkey has proved its services worthwhile for all its clients. It possesses most impressive fleet consisting of 3 big vessels with carriage capacity of 1400 Teus and 2 vessels of slightly smaller size with a capacity of 1150 Teus with regular schedules from ports of Turkey to all the leading ports in U.S.A.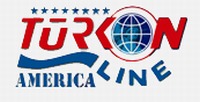 Highlights of its services
Best and youngest fleet of containers – Turkon has the finest and most reliable fleet of vessels and containers. The best thing is Turkon has the ownership of most of them and it has only taken a few of them on hire basis. But it always sticks to quality factor, while it hires containers and vessels from outside.
Making use of only the best in equipment – When it comes to using any machinery or accessories, Turkon only takes the best in the available categories.  Over the years, it has bought great number of chassis and also directly takes chassis from the available pools.
Owner of best fleet of trucks – Besides ships and containers, it also possesses excellent fleet of trucks. For this its haulage rate has always stayed competitive and its customer loyalty has steadily increased. With its excellent fleet of trucks, it has reached the most inaccessible parts and served the distant lands like Bulgaria, Romania, and Ukraine.
Convenient sailing Schedule – It has designed most convenient schedule for sailing taking in to account the real needs of its clients. To add to it, it gives the updates about schedules for sailing online allowing the clients to access it immediately.
Customer Care – To enable its clients with best services from customer care, it has its offices in various parts in U.S.A. and Turkey. It has given its Toll Free Number 1-888-988-7566, and its dedicated customer care representatives meet the queries from people with effective solutions. To add to the efficiency of customer care, it also has its offices in Norfolk, Savannah, and South Carolina. With such extensive arrangement in customer care, it is able to deal efficiently with all types of queries from its clients.
Tracking Turkon Cargo – Clients could call its Turkey office in the number 216-5441888 and send a fax in 216-5441900, requesting information about status of containers and vessels.  The customer care would give latest information about the status of containers.
The clients could call its toll free number 1-888-988-7566 in U.S.A. and know the latest status about containers.