Poczta Polska Tracking Online
|
Use your tracking nuymber to track Poczta Polska shipment online to find the current status of parcel. Find Poczta Polska customer care contact number. The government postal service of Poland is 455 years old and it has continued with the great traditions of delivering postage in every part of the nation. With an impressive network consisting of more than 7500 postal offices and an equal number of subsidiaries and agencies, Poczta Polska has served millions of people throughout Poland and even abroad. To add to it, this organization is also the biggest employer of the country. For this it has forever invested in CSR investment and worked relentlessly on its development. This has added considerably to the effectiveness of its capital group as a whole. For the time being, it places values on the most productive areas, such as parcels, financial and insurance offer, and logistics and last but not the least digital services.

Poczta Polska Courier Tracking
Customers have 02 option in order to track Poczta Polska shipment. The very first option is to just enter the tracking number and click on 'Search' button and it will show the current status of your courier .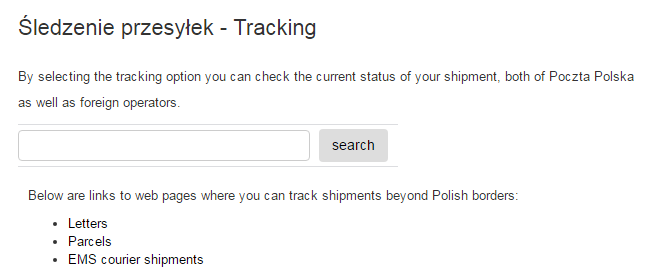 You could log on to its tracking page and track with the help of your package number.
And the second option is to call to the Poczta Polska customer care and they will let you know the current status of parcel.
Customer Care Number
801-333-444
(48)-438-420-600
Timing: 8:00 AM to 8:00 PM
Customer Care Email ID: uslugi.pocztowe@poczta-polska.pl
Services by Poczta-Polska
Parcels and letters – For parcels and letter deliveries, its services has forever stayed reliable and trustworthy.  For this kind of service, its terms have always stayed to the needs of the customers. It could get adjusted to a specific time, delivery within 24 hours or same day, next day, or at a particular time as per the convenience of the receiver. It is up to the receiver and sender to choose the service.
Finances – Besides services for parcels and letters, Poczta also offers host of financial services. First of all, it has enabled services for sending payment to various destinations in Poland and even abroad. With its strategic partnership with other financial companies, it has brought out various financial products.
e-Services – In the age of internet, it has made available different types of e-services for its clients. Such services are helpful in filing e-applications for various purposes.
Philately – As the state organization for postal services, it gives postal stamps of various nations. The avid stamp collectors could collect stamps from its branches and preserve those for their interest.
Business services – It offers different services for business firms. Such services could help the business firms in every respect. The services could help in the smooth functioning of marketing departments of business firms.  Such A-Z in services has various companies in Poland to grow potentially.
Mail via internet – Organizations could avail its various mail services, which are complimentary on different occasions.
Ecommerce –  In the age of internet and e-commerce, it almost offers A to Z in services for the e-Commerce companies. For facilitating their works, Poczta has enabled full-fledged packages in services.