ICD Loni Logistic Pvt Ltd tracking
|
ICD Loni is a U.P. based company involved in logistics business with a container handling capacity of 14,000 TEU.  They have strategically located storage areas that collectively provide a storage capacity of 20,000 TEUs monthly and the total area is over 2,00,000 sq. feet.
These warehouses are decked out with state of the art amenities and equipment to handle and store cargo. Ancillary services like parking, bonded warehouse are provided along with a separate area for container storage.

Infrastructure
Their facilities are extremely secure and they provide CCTV coverage and trained and experienced guards are in their employ to ensure safety of the goods they hold. Protection against natural hazards and accidents like are also taken at considerable expense. For reefers power arrangements are provided to provide safety of refrigerated cargo. A skilled team of materials handling personnel look after day to day operations using various advanced materials handling equipment. Their entire operations are computerized and information access and communication are beyond parallel. This probably is one of the reasons for their ever increasing customer base.
Services
They offer their clients secure carriage, materials handling, storage and clearance services.Theyare pioneers when it comes to online operations with a horde of functionality built into their site for transactions, payments and reports. Thus information can be availed remotely and promptly and expedites and eases operations. Their electronic order delivery system helps to process order delivery quickly. They have ISO quality certifications for Supply Chain Security System, Environmental Management System and OHSAS certification for Health and Safety Management. These prove their commitment towards excellence and the ability to stay at the peak of excellence consistently in the challenging business of logistics.
Customers
The largest and most reputed organizations in India involved in warehousing and transportation are their clients. A large number of renowned shipping lines of the world are also their customers like HAPAG LLYOD, Emirates Shipping Agencies, Hyundai Merchant Marine, Orient Overseas Container Line to name just a few.
How to track the ICD Loni shipment?
To track your container you need to visit their home page using this link here. Here, there is a link that says "Container Tracking" towards the right, you need to click on it.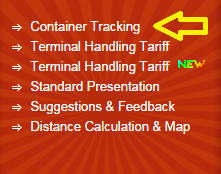 This will bring you to the login page where you need to enter into your account by entering your login credentials. Next you need to enter your container number in the space provided on the next page to track the current status of your container.
Customer Support
They have their registered office at Khirki village, New Delhi, house number 75, in Malviya Nagar. The PIN code is 110017. Alternately, you may call themat their corporate office by dialing +91 – 11 – 43122777 or fax them at +91 – 11- 431228888.